RV Owners
April 7th, 2015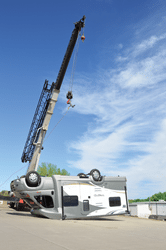 When disaster strikes, your first thought is safety. Winnebago recently proved that their newest rig, the Trend, can be counted on. The American RV market has acquired a sudden passion for these new fuel-efficient mini motorhomes so popular in Europe. These smaller, more agile vehicles allow passengers to dry camp, stealth camp or hook up just about anywhere. This 25-foot all-in-one offers a kitchen, mini bath, beds and LED TV, but is it safe?
YES! In fact, Winnebago set out to prove that their Trend, built on the Ram ProMaster Chassis, will hold up in the worst of conditions. So, if a tornado flipped the Trend, what would happen? Winnebago decided to turn their mini motorhome upside-down to find out.
The results were amazing.  The Trend withstood being dropped from 3-feet above the ground onto a concrete surface. It not only survived, but surpassed expectations. "It's in our corporate DNA to do everything we can to provide a better, safer experience for our customers," noted CEO Randy Potts. "As far as we know, we're the only motorhome company that tests our products in all these ways." Winnebago also uses a shaking simulator. This process helps pinpoint trouble spots before they happen. Traveling in an RV is like experiencing an earthquake each day. On the road, the entire unit shakes, rattles and rolls. That's why, it's important to know your rig is well built.  The RV industry does not have a set of particular safety standards.  It's important to do your due diligence when buying a new unit. Winnebago used the Trend as an extreme example of safety.  If your unit should roll or flip, it's good to know the roof won't collapse. American families are excited about the updated sense of style now available in mini motorhomes. The truth is, small motorhomes have a lot to offer.
If you are longing for a small RV, here are a few tips and tricks you should know:
1. Small rigs are usually classified as a Class C or Class B. Truck-style Class Cs offer greater ground clearance, but fuel economy varies. Van-style Class Bs get more miles to the gallon, but sit low to the ground, which may prevent you from extensive off-roading.
2. The most popular chassis in the U.S. is the Dodge/Mercedes Sprinter. The newest is the Ram ProMaster Chassis used by Winnebago. (Although this chassis has been used for years in Europe.)
3. Small RVs work best for people who love the outside and plan to spend more time in nature than in their rig.
4. Minimal living is crucial, since storage space is sparse.
5. With ease, you can add a rack or solar panels to a Class B or C motorhome.
6. If you plan to drive through mountainous terrain, it's best to spring for a diesel unit.  A diesel will give you the power you need.
There are several different styles of mini motorhomes to choose from. The most contemporary is the Airstream Interstate. The most adventurous is the Sports Mobile Sprinter. The most creative is the Unity from Leisure Vans. (It features a Murphy Bed which tucks away when not in use.)  Entry-level tiny RV's cost just under $100,000.  Why so much?  A small motorhome is an apartment on wheels.  You are buying both a large vehicle and a tiny home-in-one. Ready to try one out? Renting is a great place to start. RVShare.com offers a variety of motorhomes in every size and shape imaginable. Test camp before you buy and discover which RV is perfect for your individual lifestyle.