How Tos & Tips
June 5th, 2018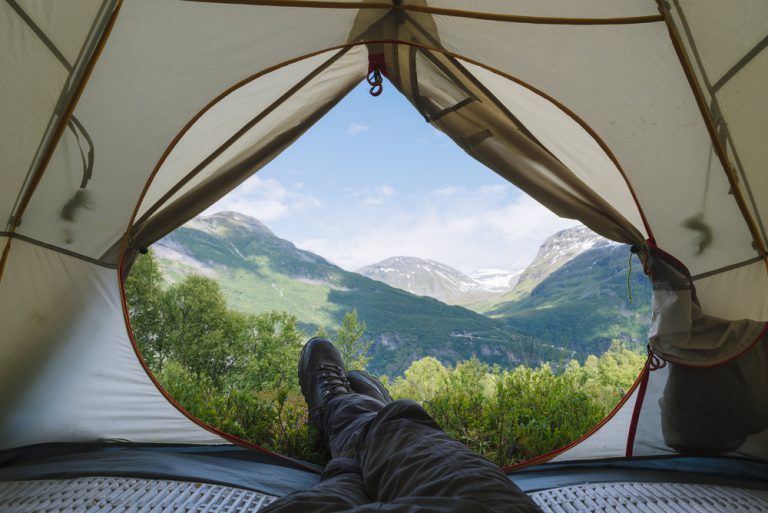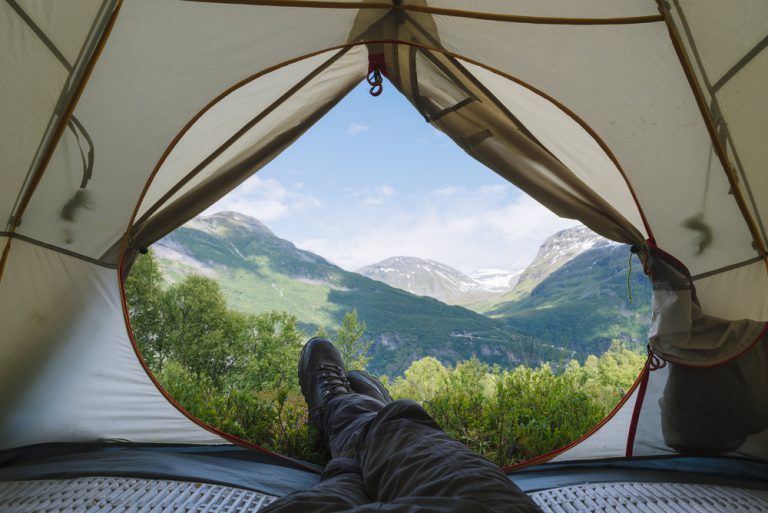 Many RV campers are drawn to the lifestyle exactly because it's not tent camping. For some of us, a day of outdoor fun followed up by a cozy night watching TV from the couch is as close to "roughing it" as we want to get!
And we're here to tell you that's perfectly fine. In fact, that's exactly what motorhomes are made for! But for others, a weekend camping trip can be made all the more exciting and fun by spending a night or two under the stars, with nothing between you and the great outdoors but your tent and your sleeping bag.
It's easy for RV campers to enjoy the best of both worlds. You can drive your travel trailer or motorhome to remote camping areas and enjoy the wilderness, knowing you always have the creature comforts of your rig to return to (hello, climate control!). Or maybe You're planning to use tent camping as a way to increase your RV's living space to make room for some extra, scrappy campers — like your kids and their friends.
Camping Ideas
No matter what the plan is, or even if you're just getting familiar with the idea of tent camping for the first time, we put together this tent camping checklist post to ensure you enjoy your adventure as comfortably as possible. After all, there's just about nothing worse than getting to your campsite only to realize you've forgotten some critical item, whether it's a spare tent stake or a can opener.
So first, we'll provide an all-inclusive checklist of tent camping supplies and equipment you don't want to leave home without. Then, we'll circle back around and discuss a few pieces of that equipment in depth, so you know what to look for when you're on the market to buy them.
Alright, ready to get started? Without further ado, here's the best darn camping gear checklist you'll ever come across.
Tent Camping Checklist
Here are the basic items you definitely don't want to find yourself out in the wilderness without. It's even printable — just right click your screen and select "print"!
Shelter:
Tent (including all stakes and setup equipment)
Shade tent or tarp (including all stakes and setup equipment)
Hammer for setup
Bedding:
Sleeping bag for each member of the party
Blankets
Optional air mattress or other sleeping pad
Air pump (to inflate air mattress)
Camp Kitchen:
Personal Items
Clothing, including outdoor-friendly, non-cotton layers, wool socks, and hiking boots
Rain gear
Swimsuit
Hat (for shade from the sun)
Sunglasses
Sleeping clothes (again, not cotton)
Laundry bag
Bath/shower towels
Toiletries like shampoo, conditioner, soap, deodorant, etc
Toilet paper (DO. NOT. FORGET.)
Miscellaneous Items
Sunscreen
Chapstick
Bug repellent
Bear bell and/or bear spray
Camera
Maps of the area
Watch
Entertainment items, like books or drawing pads and pencils
Adventure/outdoorsy items, like hiking gear or kayaks
Batteries, if necessary
Camping Tents
Alright, now that you know the basics on the gear you'll need, let's dive into a few more specific details. And let's start with your tent, since that's literally all the shelter you'll have while you're out there!
Camping tents come in many different shapes, styles, and sizes, from simple family tents made for casual summer camping to technical, weather-resistant tents made for just one person.
Obviously, the right kind of tent for your camping experience will depend on what you plan to do while you're out there. But in general, some of the most important aspects to keep in mind when choosing a tent are its size, weight, reliability, and the difficulty of setup. A solid, waterproof tent is imperative to keep you dry and safe if you're camping in the Pacific Northwest or another rain-prone area — and even in the desert, you never know when a quick shower might appear. Setup difficulty (or, more accurately, lack thereof) is important because — trust us on this — no one wants to deal with a finicky tent after a long day of driving or hiking.
Luckily, the industry has responded to campers' demand for convenience by creating pop-up tents that require next to no labor to assemble. The stakes snap together easily and intuitively, meaning you have a shelter ready to go in just a few minutes.
Camping Gear
Once you've got yourself covered — literally — by the tent, it's time to focus on the other gear and accessories you'll need.
A sleeping bag is the best way to preserve body heat and ensure a good night's sleep, and every member of the family should have one. They do also make two-person sleeping bags if mom and dad prefer to cuddle during their night under the stars!
You'll also need to bring along the required equipment to make camping meals. Because let's face it — eating is one of the best parts of any adventure!
Portable propane-fueled stoves, like this one by Coleman, are classic, but you might also consider a grill grate that fits over any campfire. Don't forget tongs, skewers, and other accessories you'll need in order to actually handle your food while it's cooking.
Finally, take a moment to consider what activities you're looking forward to on your camping journey. If you're itching to hit the trail, you'll want to make sure you have your hiking gear with you, like your sturdy boots and trekking poles. If you've got water adventures planned, don't forget the kayak or stand-up paddle board you'll need to pursue them.
And, hey, if your idea of a great camping day is simply sitting in front of the fire? No problem — but make sure you pack your folding chair or inflatable lounger.
Alright, campers, you're officially ready for the wilderness! So what are you waiting for? Get out there!
This post may contain affiliate links.