RV Owners
April 9th, 2015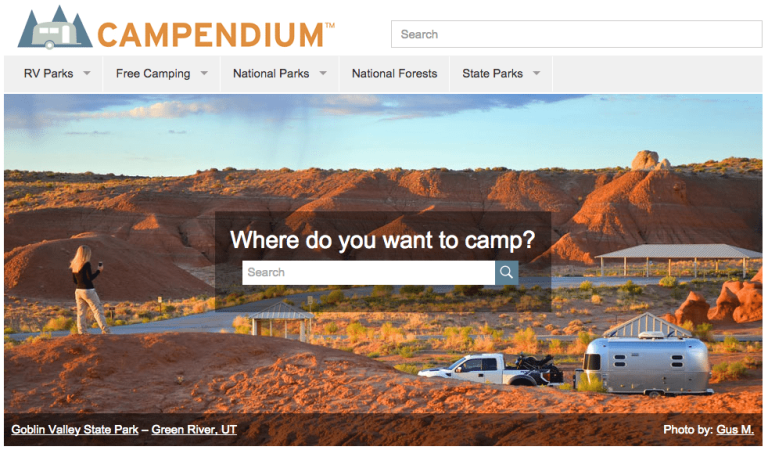 If you're looking for a great restaurant for a night out, you check Yelp. If you're looking for a well-regarded contractor to do some work on your home, you check Angie's List. However, if you're looking for the perfect spot to park your RV or trailer for the night, you will definitely want to check Campendium.
After a 2-year development period, and lots of rigorous beta testing, the website, Campendium, finally launched in January of this year. It's an extremely helpful tool created by two experienced and well-traveled RVers designed to help others find great campsites. The goal is to build an informative and supportive RV community that can help you find fantastic places to camp, save you money, and help you make the most of your RV time.
A Long Time Coming
Campendium fills a big need in the RV camping community, and it's the perfect use of new technology for an age old pastime. Campers can use the site as they're planning a trip or (thanks to the prevalence of smartphones!) it can also be accessed "on the fly" as they're approaching a place to stop for the night. Printed guides are a thing of the past; the impressive amount of information available on the Campendium site leaves nothing to chance. You'll know about location, services, prices, conditions and more before you even pull through a campground's gates.
The Campendium Difference
The indexing on Campendium is pretty helpful. It's arranged by RV parks, national parks, state parks and national forests. There's also a section for free camping (though some free campsites may require the possession of a permit that you've purchased). Just like some other sites that aggregate campsite data, Campendium has information on each campground such as, number of sites, amenities, price and more.
However, unlike sites like Good Sam and others, Campendium relies heavily on the hive mind and crowd-sourced reviews: honest, personal reviews of campsites written by people who have stayed there, so that others who come after them can make an informed decision about where to stay. Once you create an account (it's free), you can post a review, upload photos and even link to a blog post that you've written about a particular campground. There's even a place to share how strong the cellular signal is at each park. The end result is a comprehensive compendium of helpful campsite information — a true Campendium!
Be a Part of the Campendium Community
Even though it has only been open to public contributions for just a few months, there's already some great crowd-sourced information on Campendium. However, there are still quite a few campsites with no contributed reviews or photos. This is where you come in! A site like Campendium is only as good as the reviews and photos that RVers, like yourself, put on it. It needs to be kept going! We encourage you to create an account and be a part of this vibrant upstart RVing community so that good, helpful and honest information is available to campers all over the country.