Travel Inspiration
August 19th, 2015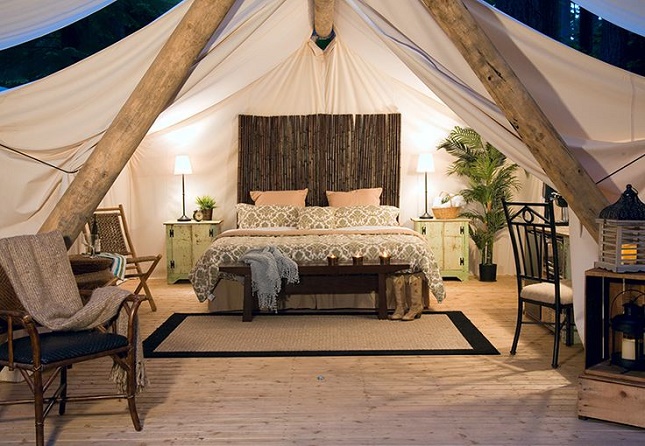 People enjoy camping. They prepare their vehicle, pack their tent and equipment, and head out in search of the perfect camping spot. But sometimes we get tired of the usual camping routine and crave something with a little more luxury and a lot less hassle.
This is when we turn to glamping for the ultimate outdoor experience. Instead of bothering with the difficulties of setting up a tent, finding the perfect location, and driving all the way to our destination with a car filled with camping gear, glamping requires nothing more than arriving at our destination where everything is ready and waiting for us.
If this sounds like your kind of vacation, I invite you to explore 12 of the most amazing glamping spots from all over the world.
1. The Serengeti Migration Camp Tents (Serengeti, Tanzania)
If you've never been to Tanzania before this will surely make you pack your bags. The Serengeti Migration Camp is an amazing summer destination you should add to your bucket list. It is located next to the Grumeti River which is home to resident hippos!
The resort has an 360-degree view of a truly gorgeous landscape. You can choose from 20 elevated tents for your relaxing and luxurious stay.
2. The Four Seasons Golden Triangle Deluxe Tent (Chiang, Rai, Thailand)
Thailand is well known for its exotic life style. The Four Seasons Tented Camp Golden Triangle offers a peaceful and tranquil environment. The first thing you will notice when you arrive is the elephant tusk styled door handles on every tent. Beyond those handles is a living area that measures 54 square meters (581 square feet). In every tent, you will find your own private hot tub and a king size bed to make your stay even more comfortable. The fauna and the wildlife nearby is absolutely magnificent — this is one place you need to visit.
3. The Kasabah Tamadot Berber Tent (Asni, Morocco)
The Kasabah Tamadot Berber Tent  offers a magnificent view of the Atlas Mountains. You will stay in one of their nine Berber tents that are each styled with unique decor chosen from a vast collection of traditional Moroccan furniture and antiques brought from all-over the world. The tent has a private deck where you can relax all day and soak up the sun. The answer to your "Where do I sign up question" is here.
4. The Lanzarote Retreats Eco Palm Yurt (Lanzarote, West Africa) 
Among the untouched territories and abundance of wildlife in West Africa you will find the Eco Palm Yurt. This authentic Mongolian Yurt is perfect for a family on a budget. Here you will find all the luxury accommodations including a king size bed. The yurt has its own garden with a view of the mountain and the sea. You can cool down at the shared pool area, or take advantage of the BBQ and prepare yourself a delicious dinner. If you want to lay around, you have your own private hammock with an outdoor shower. Their motto is "brighter is always better."
5. The Whitepod Deluxe Pod (Valais, Switzerland)
Switzerland is a beautiful country with a lot of captivating views. Within the Whitepod Deluxe Pod you will find the peace and relaxation you've been searching for inside a futuristic igloo with all the commodities you could want. You can play a game of ping pong, hike on the countless of trails, or simply relax next to your own fireplace.
6. El Capitan Canyon Safari Tents (Santa Barbara, California) 
If you are looking for a local glamping spot then you can't miss the El Capitan Canyon Safari Tents in Santa Barbara, California. This outstanding nature resort is located on 300 acres near the Pacific Coast. Imagine waking up every morning with an ocean view. You will have tones of recreational activities such as hiking, spa services or even llama feeding. Within the resort you can find free bike rentals and a couple of stores to make life easier. The staff is very professional and the tents provide enough luxury to spoil yourself for a few months.
7. The Kiba Point Selous (Southern Tanzania) 
Tanzania doesn't give up that easy. If you didn't like their first offer they came with a new one just for you. The Kiba Point Selous sure looks amazing. It's set back off the river, with four astonishing open front rooms. You will have your own plunge pool on the edge of the deck in addition to the larger pool in the main area. Comfortable sofas and chairs will be just a step away for the ultimate relaxation. The Kiba Point Selous is reachable by foot, by boat, or by any vehicle. I'm sure you will just love it here.
8. The Rockwater Tenthouse Suites (Halfmoon Bay, British Columbia)
The endless view of the Pacific ocean will be a memorable one when viewed from the private veranda of your Rockwater Tenthouse Suite. It all start with a walk on their 1500′ forest boardwalk that goes straight to your relaxation senses. Each suite is a private sanctuary, nestled among the arbutus trees overlooking the Secret Cove. It has its own heated slate floor, hydrotherapy tub, a shoji screen and a fireplace. And if all of that isn't enough to calm your mind then the clear night sky would make you feel like you're on another planet.
9. The Pampered Wilderness Safari Suite (Olympia, Washington)
Yet another amazing glamping experience located within the Safari Suite Cabin. Think of your very own African Safari on American soil in Washington state. The luxury and comfort provided here are beyond expectations. You will have your very own king size bed with a memory foam mattress. You will relax by the fireplace and cook on the outdoor fire pit. Technology won't be a stranger to this suite and you will have your very own electric heater, mini fridge and microwave oven. The surroundings are just divine and you can always spend time riding your bike around the park.
10. The Loisaba Star Bed (Nanyuki, Kenya)
Now it isn't called a Loisaba Star Bed for nothing. A giant king sized bed with unique wheels can be rolled under the stars to gaze upon the lovely night sky. You can choose from two sets of Star Beds — one overlooking the "Kiboko" waterhole, and the other the Ewaso N'giro River. The beds can be reached via horse, camel, vehicle or on foot. They are handcrafted and partially covered with a thatched roof. You can count on the expertise of local tribe warriors to show you around and offer you a memorable glamping experience. I think this is truly an interesting place to go to.
11. The Canonici di San Marco Bamboo Suite (Venice, Italy)
We've heard a lot about Venice, Italy, but the Canonici di San Marco Bamboo Suite is something totally different. This divine corner of the world is something we all dream off. A large lodge suite filled with all the luxury you crave including a giant bathroom. The lodge offers a view of a beautiful field within a marvelous forest. Outside your suite you have an outdoor bed where you can relax during the day or sleep during the nights. This is simply a piece of glamping heaven that I for one can't wait to experience.
12. The Banyan Tree Al Wadi Tented Pool Villa (Ras Al Khaimah, United Arab Emirates)
The United Arab Emirates developed with out of this world speed and it is now one of the richest countries in the world. They always offered their tourists a unique and memorable experience. And this breathtaking mud-brick Arab villa, with tasteful furniture and a captivating view of the sand-surrounded desert oasis is no exception. Expect the best from this resort that is equipped with everything you need. It starts with a personal terrace leading to a private pool and a sun bed to experience the Arabian climate fully. It continues with a king size bed surrounded by technology like a 41″ LCD Television, a "Bose" Music Prayer Matt system, and interactive Wi-FI. To boost your experience, you will find a relaxing spa and an aroma therapy service. Or if you feel like interacting with nature, you can take a closer look on camels and gazelles. The Banyan Tree Al Wadi Tented Pool Villa is surely a place to stay at and the company even offers a complimentary free night stay. Isn't that great?